The first thing I do when I'm in New York is get on the subway. It's a quick way to feel immersed into the city right away, and I love that feeling of being a part of a city that integrates people of all ages, size, race, gender, and economical background into one system.
Slideshow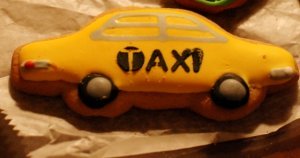 Map
View Larger Map
Suggested itineraries
Downtown
– Full day –
One of my favourite places to spend the day is downtown. This would typically include SoHo, NoHo, West Village, Chelsea, and everything in the surrounding areas in between. The best thing about the routes I plan is that there are enough places to go and see (and more than enough places to eat!) but there are always little shops hidden along the way. The village is also filled with beautiful buildings that I would love to live in, so it never hurts to get a little lost in the winding streets (the grid system is completely out the window around here).
The day begins at Balthazar, one of my favourite places to eat, and ends anywhere around Chelsea Market/Pastis or Union Square for the super-walkers.
The red pins are for Downtown
Uptown
– Full day –
On my most recent trip, I discovered the wonders around Bryant Park (read: the eateries). For a great day, I would start around brunch/lunch time at Bryant Park – pick up a delicious sandwich from Cosi or Pret a Manger and a cupcake from Crumbs, and park myself on one of the green patio chairs to people watch. Then it's up 5th Avenue to take in all that it's famous for, with a detour in Central Park before ending the day with a giant frrrozen hot chocolate uptown at Serendipity3.
Check out the map with the purple pins
Brooklyn
– Half day (at least) –
I've heard so much about Brooklyn and the other boroughs outside of Manhattan that it's time to foray into the unknown! Take the subway to High Street or any of the stops close to High Street, and walk along the streets until you get to the water. Make sure to walk along the promenade, and then along Atlantic Avenue to check out some of the quirky shops before walking back in to Manhattan via Brooklyn Bridge. It is a fun walk on a sunny day, and you get to see Manhattan from such an interesting perspective!
Check out the yellow pins (and I hope to add more in the future!)
NYC Bar Scene
– Recommendations from a good friend –
Check out the pins in turquoise for the hot spots
Best of the City
– As voted by New York Magazine readers. I would hope that locals really do know best! –
Check out the pins in green for the best picks.
Note: My suggestions are based on things I like. I may have missed some "key" places that are important to you, and I'd love to hear about them if that's the case. I'm always updating my maps when I find out about new places to go, so check back often!