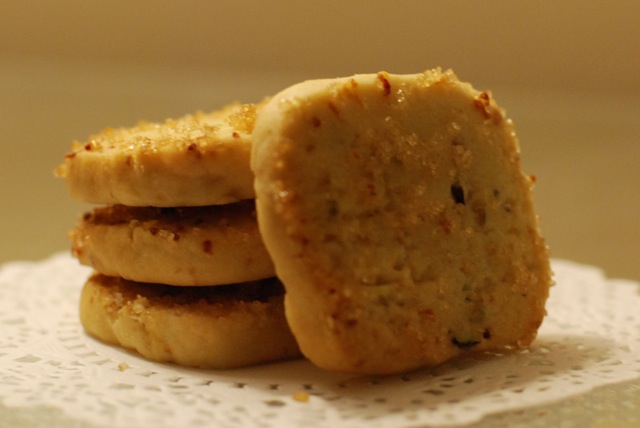 I feel rather grown up lately with my cookie recipe selections – *gasp*, am I actually weaning off chocolate? Nahhh, it'll be back, you just wait.
This week I was craving a classic shortbread cookie. It all started around Christmas when my sister Julia and I lamented the lack of shortbread baking in my mom's house in the past few years. There used to be a time when our mom would fall back on this classic cookie more often than not because it was easy, rich and satisfying, and fun (yay cookie cutters!). Initially I used a Barefoot Contessa recipe, but it turned out more like a cross between a sugar cookie and a shortbread cookie, so that didn't quite hit the spot. The other day, I decided to whip out my no-fail shortbread recipe when I had some meyer lemons left, and made some lemon pistachio shortbread cookies.
The basic recipe makes a very buttery-crumbly cookie – get a cuppa ready because they are meant for each other!
Ingredients
1/2 cup icing sugar
2 sticks (1 cup) unsalted butter, softened
2 cup all-purpose flour
1 tsp. natural vanilla extract
lemon zest from 2 medium meyer lemons, or 1 large lemon
1 tbsp. meyer lemon juice
chopped up pistachios
coarse sugar (white) for sprinkling
Instructions
1. In an electric mixer with a paddle attachment, cream butter on medium speed for about a minute until it is smooth and light.
2. Add in icing sugar and cream for two more minutes on medium speed until it is well mixed and the butter is once again light and smooth. Mix in vanilla extract and 2 tsp. of the reserved lemon juice.
3. On a lower speed setting, slowly add in flour and mix in well. Add in the lemon zest (save about 1 tbsp though) and pistachios and mix well.
4. Remove dough from mixer and shape into logs. Wrap with cling film and put in fridge for about an hour or two, until it is firm but still malleable.
5. Preheat the oven to 350 degrees, with rack in the middle. If you have a convection option, turn it on because it works beautifully for cookies!
6. Slice the logs into cookies.
7. Mix some coarse sugar with your remaining lemon zest and juice, and dip one side of each cookie in the sugar mixture. Place sugar side up on a non-stick cookie sheet.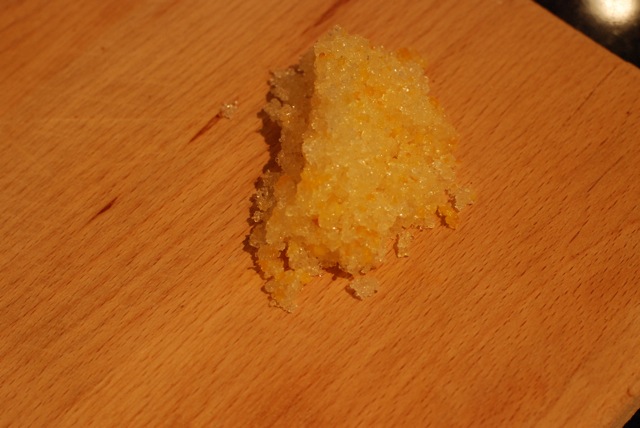 8. Bake for 12-15 minutes, depending on size of cookie, until it is just about golden. Remove from oven, and let sit on baking sheet for about two minutes. Remove to cooling rack and let cool completely before putting them away.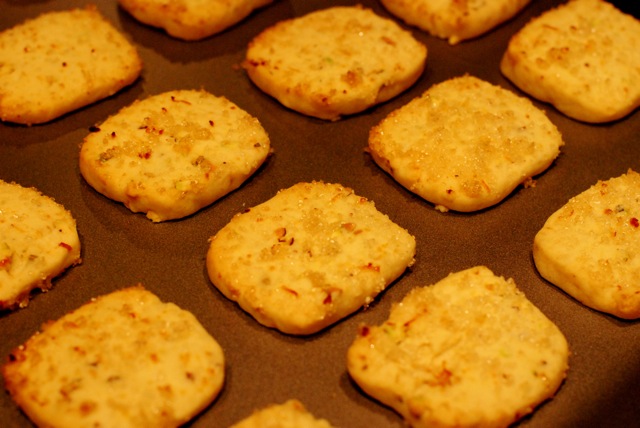 Enjoy with your afternoon tea or coffee and feel grown up about it! These are not super-sweet, and you definitely don't need to eat half a dozen at a time – they hit the spot just right with a couple :)
P.S. Variations on a Shortbread theme by mango…
Switch up the flavours with orange extract or almond extract instead of vanilla, orange zest and cranberries work well in the winter, and hazelnuts and coffee flavour can also be used! Use your imagination!