Have you ever had McVities Ginger Nuts? In case you're unsure, McVities is the producer of rolls and rolls of Digestive Cookies, and the cause of my incredible weight gain in England. For 99p, Alex and I would buy a roll of the Caramel Digestives – a digestive cookie with a thin layer of melty caramel (like a Mars Bar), then coated in chocolate. It was heavenly, and we'd nosh through a roll in one, maybe two days.
I digress. McVities also makes awesome ginger snaps that are beautifully cracked on top, light and crunchy. They're perfect with an afternoon cup of tea. So when Cookie of the Fortnight coincided with Alex's birthday, and I wanted to make something super British, both of our thoughts turned to finding a classic crunchy gingersnap recipe.
After a few trials in the kitchen (many miniature test batches were made in this quest), here's the final (until we find something even better) recipe.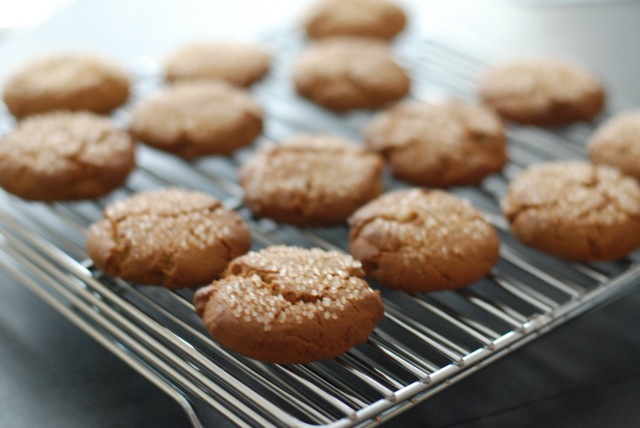 You will need
280g (2 cups) flour
1.5 tsp baking soda
0.5 tsp salt
1.5 tsp ground cinnamon
1.5 tsp ground ginger
0.5 tsp ground black pepper (I used freshly ground)
0.5 tsp allspice (optional)
118g (1/2 cup) butter, at room temperature
130g (2/3 cup) granulated sugar
80g (1/4 cup) molasses
0.5 tsp vanilla extract
1 tsp lemon zest (if you are feeling slightly spontaneous)
1 large egg (about 45mL, or 3 tbsp), at room temperature
roughly 1/2 cup chopped crystallized ginger
coarse sugar for dipping (I use raw cane sugar)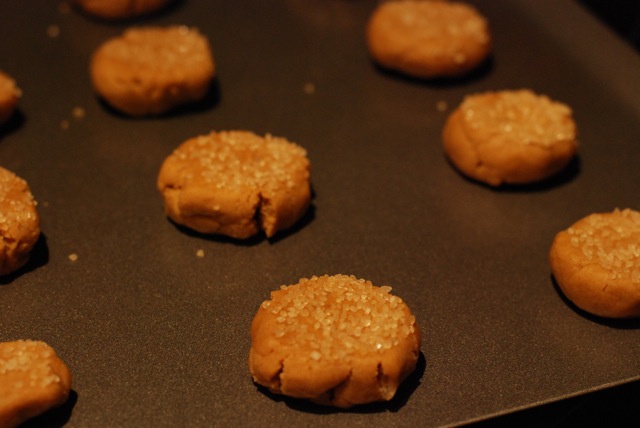 Coat each cookie in coarse sugar before baking
Directions
1. Sift together all the dry ingredients and mix well so that everything is evenly distributed.
2. On medium-low speed, cream butter for a minute. When it's all mushy and soft, add in the sugar and turn the speed on medium. Cream together for about three to four minutes, until lighter and fluffier. Scrape bowl as needed.
3. Add in vanilla, optional lemon zest, molasses, and egg. The best way to add the molasses is to weigh your bowl on a scale with everything in it, set the scale to 0, and add in the 80g. Otherwise the molasses sticks to measuring cups and you never know if you've added enough. Mix on medium-low just until everything is mixed in well.
4. Add the dry ingredients in two or three parts, mixing on low speed after each addition to ensure the flour is incorporated before adding more. At this point the mixture should look like it can't quite come together to form a ball but it's not too dry either. If it looks like it's not coming together, try mixing on a higher speed (i.e. medium-low/medium on a stand mixer) for 30 seconds or just until everything comes together.
5. Mix in the minced crystallized ginger. I bought mine at a regular bulk store. You want to buy them fresh, though! If they're tough to cut through, they're probably a little manky and definitely not as flavourful.
6. Gather the dough into a ball, and roll it out into logs about 1.5 inches in diameter. Wrap the logs in plastic and refrigerate for 30 minutes or so (can chill for up to 3 days – I haven't tried more than that).
7. Preheat oven to 375 degrees.
8. Slice the cookies into 1/4″ thin slices, dip one side into the coarse sugar, and place sugar-side-up on your favourite baking sheet. Bake for 12 minutes or just until it doesn't make a huge dent if you touch a little corner of it lightly. Let rest on cookie sheet for three minutes before removing to a cooling rack to cool completely.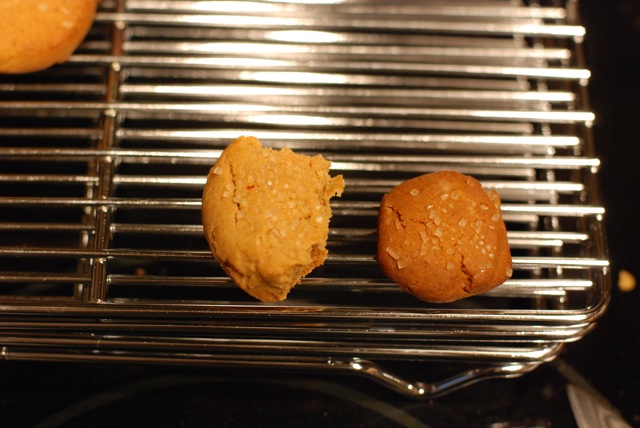 Remember, you're baking gingersnaps. Left: too light (golden-brown). Right: just right.
9. Alternatively, you can roll the dough into small 1″ balls, squish them fairly flat (thick is the enemy here, as it's harder to get the overall crunch if the cookie is too thick) and dip in sugar before baking. Hand-rolled cookies will give you the cracked-on-top look.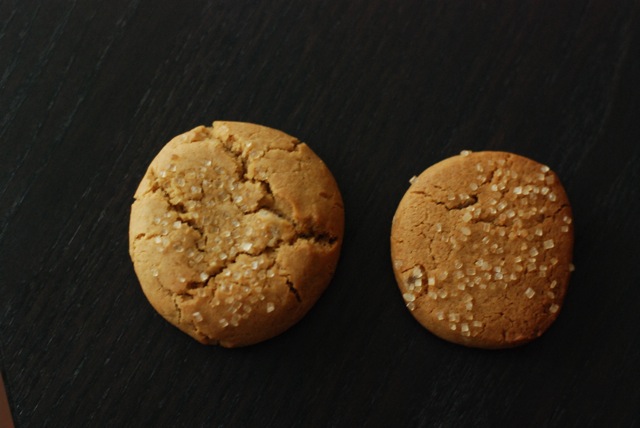 Left: hand-rolled and squished down. Right: slice 'n bake.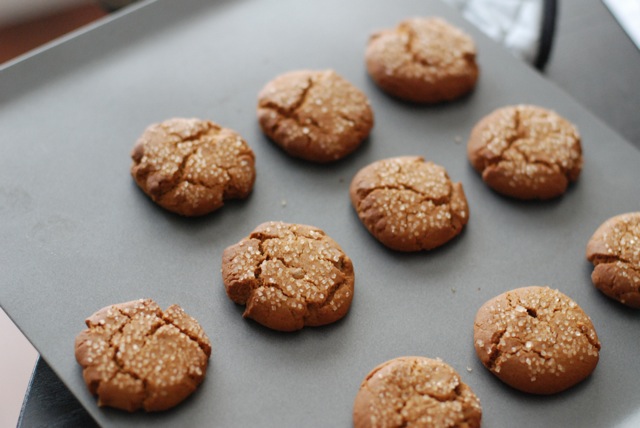 The good thing about crunchy cookies is that they can sit on the sheet
longer than others, while the baker goes off to find a camera & correct lighting.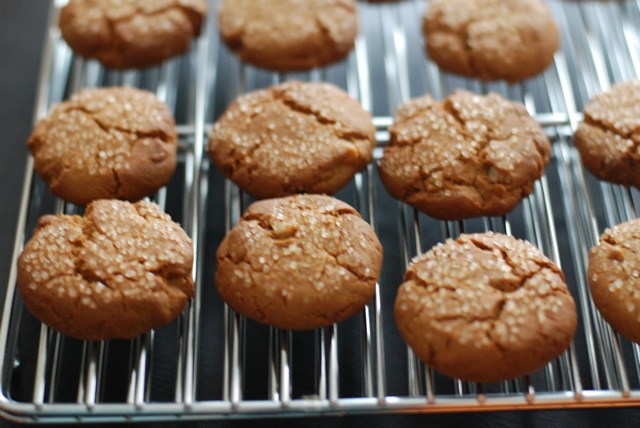 Be patient and let them cool completely, or else they'll have a chewy-crunchy identity crisis.
Not that it's a bad thing in a cookie.
Lastly, I leave you with a picture of what my constant baking has led to: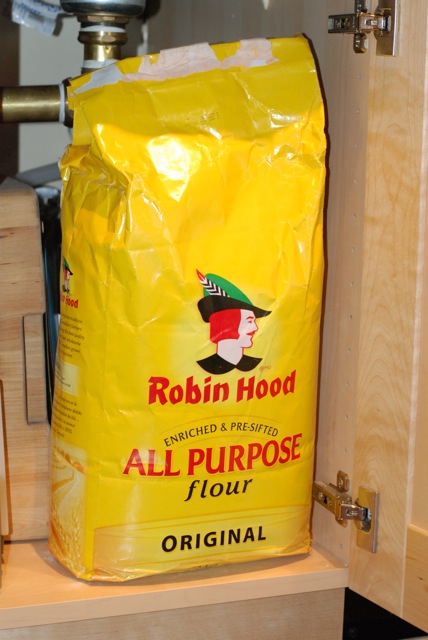 I don't even know how heavy this bag is. I just know I used to laugh at my mom for hoarding one under her sink. Who's laughing now?!