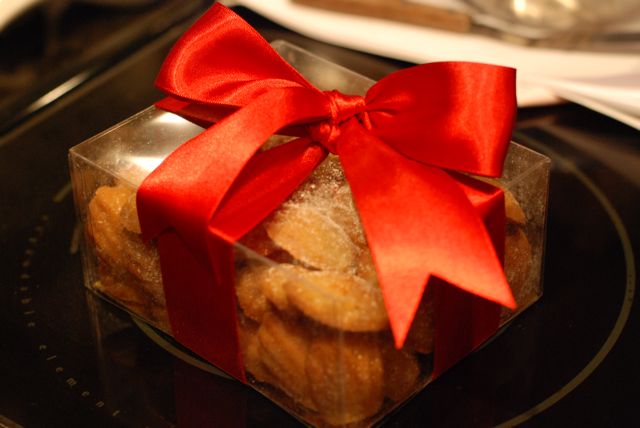 since i'm moving into a new role on monday, a few co-workers and i are getting together this friday evening for some drinks. of course, this morning the idea for the hostess gift hit me – it's the perfect time to try the madeleines recipe from 101 cookbooks.
(i actually found 101cookbooks.com via the Gmail text ads – for some reason they seem to pop up a lot when i'm in my inbox. it's a great site for interesting recipes, and the details provided are usually enough to persuade me to try daunting tasks that i wouldn't normally attempt.)
the recipe is actually quite uncomplicated in terms of ingredients, and i popped out to williams-sonoma quickly to grab the madeleine pan…it's pricey for what it is, so i may return it and buy a different one from my baking school next week. also, you'll see in the pictures that the imprints aren't deep enough (in my opinion) so you can't really see the beautiful scalloped detail that you typically see on madeleines.
a few tips:


the butter melts, foams, then starts bubbling and hissing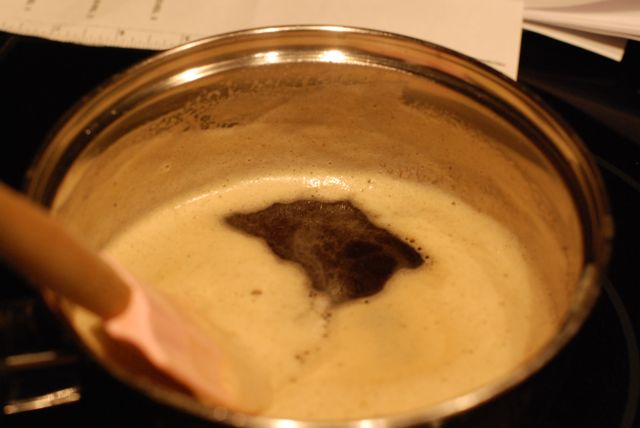 the dark liquid state you're shooting for in the "melt butter" step

 
essentially, you are burning butter in the first step. so don't be alarmed if you hear weird noises coming from your pan. it does take a while to get the butter darkened, and when it does, the mixture reminded me strongly of guinness. it's frothy at the top with very dark liquid underneath the froth. use a heat-proof spatula to keep the butter moving once in a while so the bottom of your pan doesn't take too much abuse (i'm still scrubbing mine because i let it sit).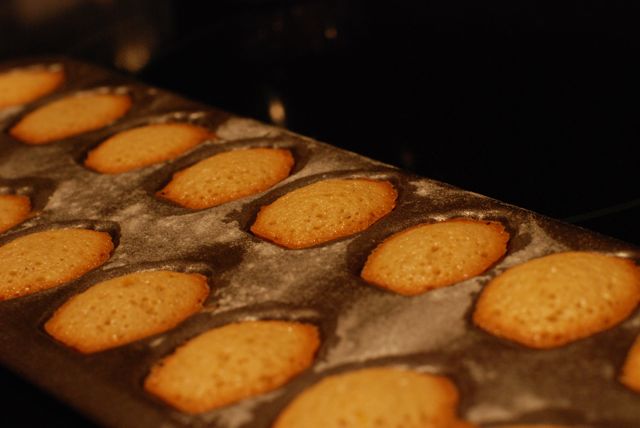 how to tell when the madeleines are done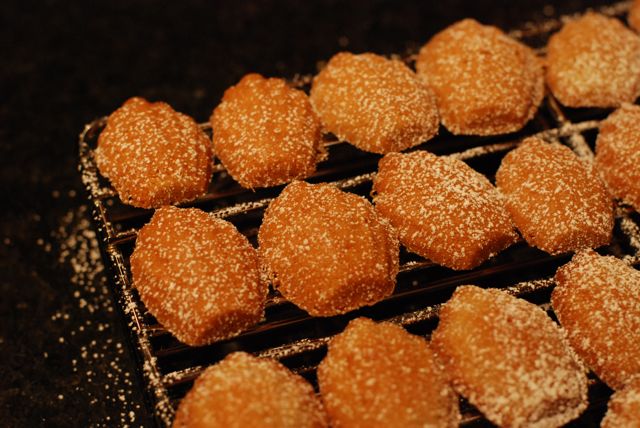 all sugar'd up and ready to be packaged

 
i think the madeleine batter is the most delicious cookie batter i've eaten – it's so light and fluffy with just the right amount of lemony sweetness! the batter is actually almost meringue-like because of the eggs and sugar, so you want to keep the batter slightly covered when it's not in use, and soak your whisk as soon as you're done whisking the sugar and eggs so it'll be easier to clean later!
i think the next time i might add some almond extract instead of vanilla just to heighten the nutty flavour you get in these cookies. i may also try including a tiny bit of ground almonds in place of the flour.
final verdict – the recipe and idea of a parisian treat(!) may seem difficult, but the instructions are quite clear, so i'm feeling much more confident with this recipe and will continue to tweak it to my liking!