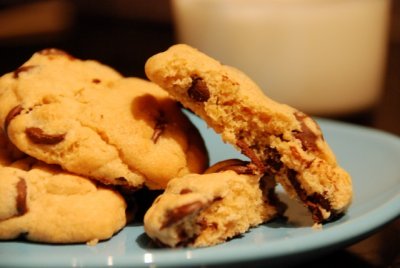 For the inaugural cookies of the fortnight post, there's no recipe more fitting than my favourite chocolate chip cookies. I got this Jacques Torres recipe reference from an article in New York Times on chocolate chip cookies (thanks, Spends2Much!) and I have never looked back. I've tweaked it a little here and there – enjoy!
Ingredients (I think weighing them makes all the difference!)
4 1/4 oz. (1 cup minus 1 tablespoon) cake flour
4 1/4 oz. (3/4 cup plus 1 tablespoon) all purpose flour
1/2 teaspoons baking soda
3/4 teaspoons baking powder
1/2 teaspoons fine sea salt
5 oz. (1 1/4 sticks) unsalted butter, softened
5 oz. (5/8 cup) light brown sugar
4 oz. (1/2 cup plus 1 tablespoon) granulated sugar
1 large egg
1 teaspoons natural vanilla extract
1/2 pounds bittersweet chocolate disks or f̬ves РI buy Callebaut pure chocolate baking chips
Sea salt to garnish (optional)
Instructions
1. Sift flours, baking soda, baking powder and salt into a bowl. Set aside.
2. Using a mixer fitted with paddle attachment, cream butter and sugars together until very light, about 5 minutes. Add egg, mixing well after addition. Stir in the vanilla. Reduce speed to low, add dry ingredients and mix until just combined, 5 to 10 seconds. Drop chocolate pieces in and incorporate them without breaking them. Press plastic wrap against dough and refrigerate for 24 to 36 hours. Dough may be used in batches, and can be refrigerated for up to 72 hours. The refrigeration is key to allowing the dough to soak up all the sugars nicely and get a caramelized flavour when baking.
3. When ready to bake, preheat oven to 350 degrees. Line a baking sheet with parchment paper or a nonstick baking mat. Set aside.
4. Scoop dough by an ice cream scoop to get even-sized cookies, and roll each mound into a ball. Make sure there are no chocolate pieces sticking out. If using coarse sea salt garnish, flatten the dough slightly and sprinkle a bit of salt on top.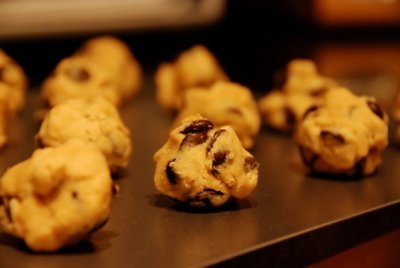 5. Bake for 10-12 minutes or until slightly under-golden. Remove from oven, let sit on sheet for another two minutes. Move to a cooling rack and continue to cool.
6. For the second batch on, make sure the cookie sheet is not hot to the touch before you start scooping the dough on there!
Enjoy with a glass of milk, or a cup of tea in my case :)